Getting Started
About¶
Streak is the world's first trading platform that allows retail traders with zero coding skills to backtest, and deploy their trading strategies, scan through the market for opportunities using the scanner and a whole lot more. Streak has integrated its platform with Zerodha, Angel One, 5paisa, Upstox and ICICIdirect1, Five of India's largest, most popular brokers and is here to help the entire retail trading community to take it to the next level.
Streak supports more than 80 technical indicators that can be used to create millions of unique trading strategies with various permutation and combinations. You can check the list of supported indicators here.
The Streak interface is simple, intuitive and unbelievably easy. It lets you create strategies under a minute, backtest them on historical market data and deploy these strategies live in the market. The deployed strategies generate one-click actionable notification on which users can enter and exit positions.
To access Streak, visit streak.tech on your browser and login with your broker credentials.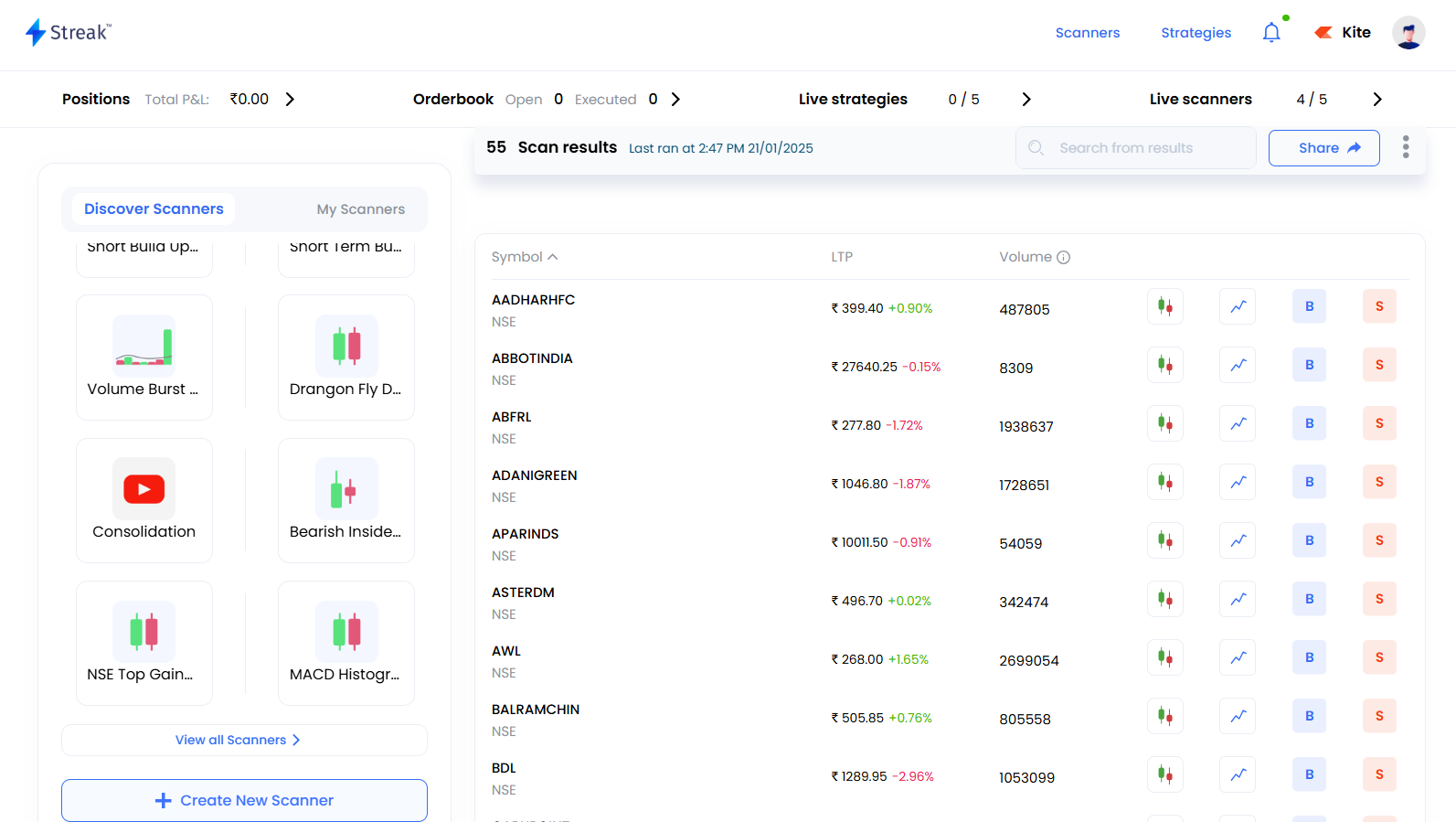 You can also download our mobile app from Google Play Store and App Store.
Notification Setting¶
The first time you login to Streak, the web browser asks your permission to allow browser notification. Please select 'allow', else you won't be getting any alerts on your system when the strategy condition is met.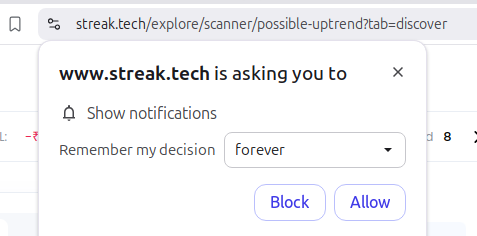 Quick Start¶
After you login, you can immediately start using the platform but if you want a guide, you can read this article on how to get started. Using the steps mentioned would help you master the features of the platform in no time.
Trial Period¶
Every new user gets to choose between two types of free trials.
A. 7 days free trial, which has limited access, that includes: 50 - Backtest and scan count each day and 5 deploys at a time.
B. 3 days free Ultimate trial, which has all features, that includes: 1000 Backtest and unlimited scan and 100 deploys at a time, Multi time frame completed, Renko chart, NFO-OPT, MCX, Trailing Stoploss and many other value-added features.
You can choose the free trial as per your requirements and explore the platform extensively.
---
For ICICIdirect users MCX and CDS segments are not supported as of now for placing live orders. Addtionaly, ICICIdirect users will not be able to place SL-M order with Streak. ↩