Notifications
Streak gives you one click actionable notification through which you will be able to place orders directly in the market via your broker. We have enlisted the various notifications and their use-cases
Informative notifications¶
Strategy Expired MIS strategies generally get terminated at 03:20 PM and for currency futures, they expire at 04:30 PM everyday
Square off timings might change based on market volatility and is dependent on your broker
At Exchange The order is sent to the exchange and waiting for confirmation of completion of the order.
Bought The order confirmation is received from the exchange for BUY position.
Completed Strategy cycle is complete.
Canceled SL-M order was canceled from notifications.
Force Stopped Strategy was force stopped either by user or order was rejected from the exchange leading to force stopping of strategy.
Sold The order confirmation is received from the exchange for SELL position.
Rejected Order was rejected from the exchange.
Actionable notifications¶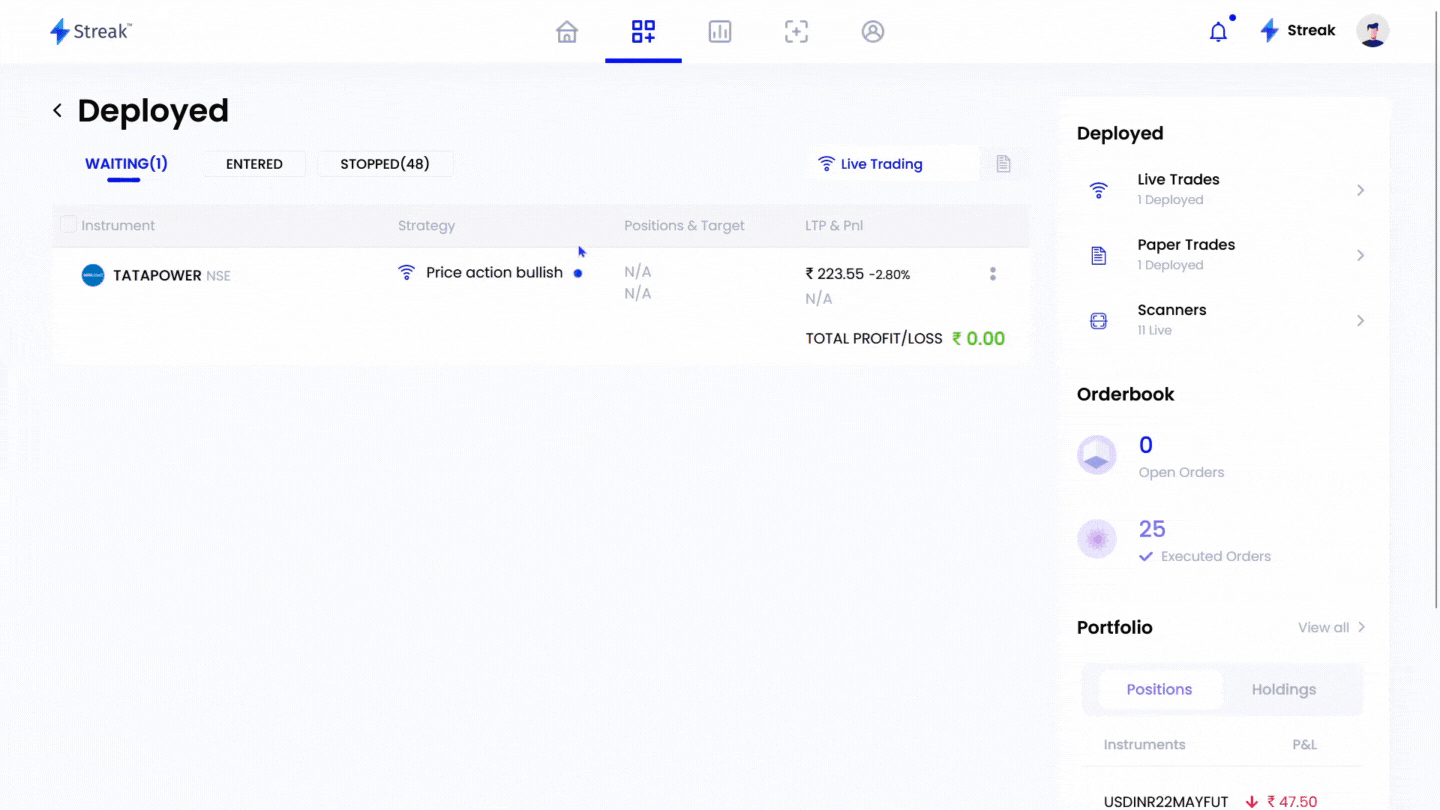 Actionable notifications are notifications with an order window, these notifications cannot be modified under any circumstances. You can however change the order type from Market to Limit on the basis of your preference before placing the order. The execution will happen accordingly at the exchange.
All actionable alerts are indicated with blinking dot as listed below
Red dot: Stop loss price has hit and since you have not placed the SL-M order in advance this order window will help you close the position by cutting your losses.
Green dot: Target profit price has hit
Blue dot: Buy (Entry buy or exit condition buy) A BUY position
Orange: Sell (Entry or exit condition) A Sell position
Actionable notifications can be of following types
Buy Alert notification comes when strategy condition for BUY position is met in the market.
Cancel SL-M Order notification is sent when target profit notification was acted upon and order was successfully executed.
Place SL-M Order notification comes either of BUY or SELL type depending on type of position was taken by user strategy, clicking on BUY/SELL will place the SL-M order for that strategy scrip.
Sell Alert notification comes when the strategy condition for SELL position is met in the market.
Stop Loss Alert comes when stop loss price is hit or exit condition (if given) is met.
Target Profit Alert comes when the target profit percentage is hit.
Important
All actionable notifications are only actionable for 5 minutes only in the notification bell icon.
Remember all actionable alerts must be acted upon by the user, except for SL-M alerts. In case the actionable alerts are ignored, the strategy will stop tracking the instrument for further notification.
Notifications ¶
All actionable notifications can be acted upon by clicking on the notification row which will display the Order window from which the positions can be taken.
Each row signifies a deployed instrument linked to a particular strategy.
You can see a View History button on the top right corner of the notification page which will display all the strategy history for that instrument so far. It is essentially displaying the Order log